Foreword
The Society of Motion Picture and Television Engineers (SMPTE) have just released formal publication of their latest suite of standards[1]. ST 2110 is a suite of standards, which arguably present the industry with the biggest change since the standard to high definition revolution of the mid-late 2000's. ST 2110 is the enabler for end-to-end Internet Protocol (IP) broadcast networks, realising the dream that broadcasters have been chasing for many years. For the first time, 100% native IP facilities are truly on the horizon.
Where are we now?
It is no secret that the broadcast industry is in the midst of the most transformative period it has ever seen. For decades, broadcast technology developed steadily, sheltered from the influence of the Internet. However, the unstoppable tide of the web has redefined what media means. For broadcasters, this has meant threats to the home-viewing market that they have dominated for half a century. The graphic below picks out some milestones, and conceptualises the changes as an increase of disruption and acceleration of technology over time.
One of the biggest facets of the change, and something which has kept the curve accelerating towards the clouds, is use of IP technology. IP has enabled the pace of change that has been seen, and the convergence of the broadcast and IT industries is now beyond the point of no return.
SDI – The Final Frontier
SDI has been the standard physical transport mechanism for broadcast facilities since the 1990s. Miles of coaxial cable have guaranteed the safe delivery of serialised data streams from point A to point B for a long time. The experience of SDI has been largely a pleasant one, in production and transmission environments. However, not much else from the early 1990s still exists at the core of modern broadcast facilities. Uncompressed media in production environments moved away from SDI infrastructure with the advent of file-based workflows. Packet switched networks built from Ethernet cables have shifted compressed media around for years. But in many places, playout is still performed by transporting 2018's files over IP to playout, and then playing them out into infrastructure with legacy rooted in 1989. The signals are then converted back to 21st century IP for multiplexing or OTT transcoding. Eradicating SDI from this part of the signal chain is a step in the right direction.
The other place that SDI dominates is in production systems, such as MCRs, studios, or outside broadcasting. While SDI has valid use cases in certain scenarios, the technology has advanced far enough for IP to replace it. ST 2110 is how the industry moves forward to achieve this.
In a world full of streams, what about flows?
Getting back to ST 2110, and there is the idea of flows. Historically, media transport has been a serial process, which is a result of the way analogue television works. Line by line, a frame is drawn, and audio data is embedded in non-active areas of the image. In SDI, 16 channels of embedded audio are possible, but rarely are they all used. This results in wasted data. In addition, embedding and de-embedding audio to and from video is an unnecessary expense. One of the biggest differences that ST 2110 brings when compared to legacy standards is the abstraction of video, audio, and other ancillary data. The once serial streams are now transported as parallel flows. By abstracting these pieces of essence, the need for non-active areas of a video frame is removed, and the format of video signals changes greatly. Reliance on analogue black and burst or tri-level signals for synchronisation is no longer required, and instead – better digital clocking is achieved.
A matter of time?
Unlike previous uncompressed media standards, ST 2110 relies on the accuracy of time between devices. The timing model in previous standards such as SDI or MPEG TS relied on "contained" timing information, in the form of time code or reference clocks. Take MPEG-TS for example: RTP (or sometimes UDP alone), are relied on for delivery and synchronisation of streams. This works in many cases, as broadcast equipment usually has good resiliency to errors, or is point-to-point. SDI has not historically been prone to errors within broadcast facilities for this reason. However, IP switches designed for normal data traffic such as emails and file transfers in a packet switched network may introduce latency. Video data streams can be corrupted easily if they are not transported properly. A whole standard exists to ease the effects of this in IP networks: SMPTE ST2022-7. However, prevention is always better than cure, and ST 2110 is designed to ensure that signal integrity is maintained throughout the workflow.
Although external time data was still used to synchronise clocks with MPEG TS and SDI, ST 2110 is reliant on local timing references at all times. As the industry moves towards higher data rates, small discrepancies in time (and the associated artefacts) are not tolerated. Precision Time Protocol (PTP) is the basis that makes ST 2110 work, and a PTP Grand Master is the network component that ensures accurate synchronisation between ST 2110 network elements. PTP within ST 2110 works much like Network Time Protocol (NTP), in that there is a master clock, and all devices on the network align their local clocks to the master. Time offsets can be applied to ST 2110 streams based on the delta between the originating and receiving devices. Previous standards for transport of uncompressed media on IP networks have been best effort attempts for transporting video over IP. ST 2110 was designed from the ground up to transport high data rate video, and is superior to its predecessors such as SMPTE ST 2022 or VSF TR-03.
What might a future 2110 production environment look like?
The end goal for many has been a completely IP infrastructure for a number of years, and the opportunities ST 2110 bring make this possible. If content is in IP networks from origination to destination, the size and responsibility of the Media Asset Management (MAM) system can be increased. MAM has been very important in the digital age for efficient processing of media in production and playout facilities. ST 2110 includes the provision for automatic device recognition (still being standardised under AMWA/NMOS IS-04[2]), which when complete will allow for smarter systems. Consider a fully ST 2110 studio system: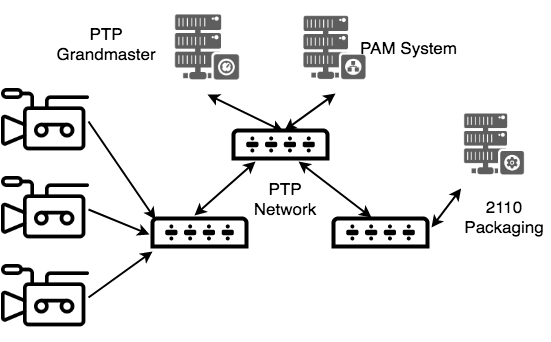 Cameras could plug into the "ST 2110 aware" network and register their unique ID, which means the Production Asset Management (PAM) system is aware of all of the sources in the production area. When compared to today's practices, this saves a lot of time in setting up systems. Somewhere that this may provide significant gains is in the outside broadcast area. Configuring an SDI router for cameras may now take minutes as all of the cameras self-register. In addition, cable infrastructure and hardware may be decreased, as a single CAT6 cable handles all production media and camera setup. The need for separate CCU units for cameras could be removed, and a centralised server could control the usual camera parameters from one location.
This may then make a PAM system aware, or even merge and become part of the MAM in the future. The system could then route content to any part of a facility in real time, meaning that turn around time for content is reduced. Using IP for this means that remote production also becomes possible. This has already been trialled and demonstrated as an effective proof of concept by VRT and the EBU in Belgium[3]. In addition, BBC Wales' new studio complex in Cardiff will now be 60% Native IP[4], and a collaboration has just been agreed by AIMS and the NABA to ensure interoperability of IP equipment on the roadmap[5] – based on the ST 2110 standards.
What about the playout environment?
Using ST 2110 in the playout environment would allow for greater flexibility and control of broadcasts. Converging all media data traffic into one network opens up opportunities to reduce the amount of deterministic hardware in a system, instead relying on COTS equipment. As broadcasters start to migrate services to the cloud, having content exist on IP networks means that conversion to IP standards is not required – as they will be natively IP. In addition, UHD broadcasting is right around the corner, and there isn't currently a good way to transport UHD content in the uncompressed domain. Stitching 3G HD-SDI to create a single 4K image is not as dense as using IP, and using 4 cables for every image uses a lot of hardware space. Valuable space is used quickly on a 3G-SDI router. 12G SDI infrastructure is expensive and limiting.
A facility with a high data throughput IP backbone, using PTP aware switch fabrics would be able to transport this content in a much more efficient way. By using standard CAT6, fibre, or Directly Attached Copper (DAC), cable density is reduced, and throughput is increased.
What are the benefits, what are the risks?
There are always nerves around upgrading infrastructure or adopting new technologies. However, the technology is now at a point where the risks are outweighed by the benefits.
Risks
Potentially high initial cost
Lack of personnel skills
More difficult to troubleshoot issues
Technology is not always understood
Degraded signals if badly implemented
Cyber security concerns
Benefits
Cheaper long-run investment vs. new HD-SDI systems
Less operators and configuration required once installed
More control and monitoring of system
Efficient handling of UHD content
Dense cable infrastructure
Easier migration to cloud and/or virtual technologies
Resiliency to future format changes
What does all this mean?
As a broadcaster, this innovation means that the point-to-point co-axial cables and 1000×1000 routers are now a thing of the past. Cheap cabling, and data centre-grade IP switches replace the old systems. Gluing systems together and relying on lots of human effort to facilitate operations is now automated or not required. Fault finding a broken cable during a critical OB is now a process of checking monitoring software, instead of crawling around in the mud with torch looking at the tailboard of a truck. As new systems move into the IP domain, the rate of development will only accelerate further, and the technology will be here sooner than ever. This is evident in the fact that BBC Wales abandoned their plans for a HD-SDI production infrastructure mid-way through the design, because the technology became available sooner than they could have imagined[6]. In a world where pressure to maximise efficiency and get content to fickle consumers is more important than ever, IP networks and the advantages they bring will be critical.
After delays and hesitation for years, the advance towards end-to-end IP broadcasting has now officially begun.
– Alex Snell, Associate Solution Architect at BCi Digital
---
[1] http://ieeexplore.ieee.org/document/8165974/
[2] https://www.amwa.tv/projects/IS-04.shtml
[3] http://sandbox.vrt.be/liveip/
[4]https://www.brighttalk.com/webcast/15687/289971?utm_campaign=iCalendar&utm_medium=calendar&utm_source=brighttalk-embed
[5] http://www.thefuture.tv/?p=6115
[6] https://www.brighttalk.com/webcast/15687/289971?utm_campaign=iCalendar&utm_medium=calendar&utm_source=brighttalk-embed
---
Want to know more? 
Call +44 (0)2392 987897 or send an email to arrange an informal discussion. 
BCi Digital is a highly experienced and flexible systems integrator with worldwide deployment experience across a number of key technologies and operators.  The company is owned and managed by a dedicated core team of industry specialists drawn from the broadcast, broadband and telecommunications industries.
Through a thorough programme of industry research, BCi Digital has an in depth understanding of new and emerging technology and its expertise can be applied to deliver innovative solutions to a client's requirements.